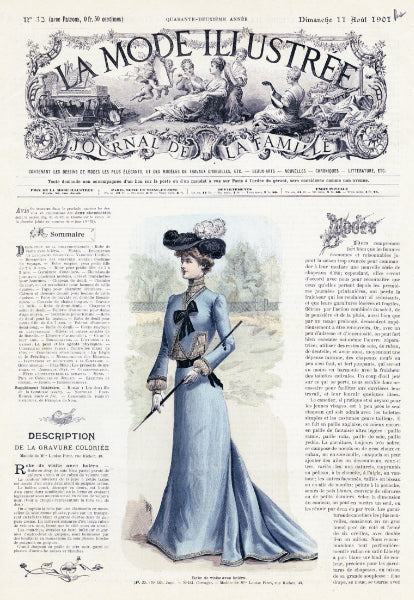 Like many of you out there - I am a vintage pattern collector ( . . .erm . .  hoarder!) One of the pattern types I love most are the fashion magazines with over sized, over printed pattern sheets.  
A bit of digression/context before I talk more about the project. 
I found my first copy of this style of pattern at a book sale in 1987.  A stack of seven Harper's Bazar from 1880.  I had been an avid vintage clothing wearer/collector and was just starting to pivot into picking up patterns.  I'd never seen these before, but I was intrigued.  I waffled . . . they were 35.00 each (in 2023 money about 100.00) but after some serious debate - I bought all of them.  
Just a few minutes before another person -- who probably knew what they were -- showed up in a rush to get them.  (Yeah - I scored!)
That started a quest to find more of these.  At the time I was very focused on Edwardian/Victorian - and now I could kick myself for not picking up all the others I came across.  
The image at the top is from the cover of the magazine La Mode Illustree, a French publication.   These issues were published weekly or monthly or quarterly, depending on the publishing house.  Included in some of the issues are oversized pages with full sized pattern pieces to be traced off.  
Here's what one of the pattern sheets looks like - this one is from a 1930 German issue: 
Think Burda magazine on steroids.  
These lovely treasures are a bit of a holy grail these days.  Complete issues that have the pattern sheets still with them are rare - and when they do come up - often run in the 125.00+ range.  
Since those first seven issues in 1987, I've found a few more.  Well - actually a LOT more, and from several other countries including Holland, Italy, Romania - and a wealth of issues from Germany.  
Archival boxes containing German Pattern Magazines
Archival boxes containing non-German Pattern Magazines
In addition to these - I actually have another huge stack that I'm currently scanning.
Typically these fashion journals would adverage anywhere from 10 to 25 patterns per issue.  (I do have one that says it has 40 different patterns!)
Let's do some best ( -- or worst!) case math here.  We will use the high number of 25 patterns per issue - and take out say 10 per issue that are children's garments or other non-adult clothing.   
Rough estimate of about 15 patterns for adult bodies per issue.  Some will have a lot more - some might have a few less. 
I have 28 boxes of German publications -  each box having about 10 - 20 (or more issues).  Let's guess an adverage of 15 issues per box.  
(Do you see where I'm going here?) 
So - 28 boxes X 15 magazines = 420 issues.  
420 issues X 15 patterns per issue = 6,300 patterns (not including children's and other misc.)
I actually think these numbers are a lot higher - but we will just roll with these estimates until I have time for a real count. 
6,300 patterns - holy moly - that's a lot of garments.  And that's only the German issues.   I'm not even going to start talking about the others. 
It struck me a few weeks ago, that I really need to get these patterns out into public use again.  I'm truly expecting that this is a job that I probably won't finish in my lifetime.  I also know that I'm most productive when I have deadlines to meet.  
Here's where we get to the real subject of this blog post - the Archive Project! 
There are two downsides to these patterns - one is that they require lots of editing before grading to make sure the seam lines match, and all the pieces play together nicely.   
Two is that the sewing instructions are generally about five or six sentences at most.  
This deadly combo makes them fall way below the standard I try to set for my pattern releases.  
Over on my Patreon page I have set up a new tier for the Archive project.  Supporters at this level (12.00) a month will have access to two (or more if I work fast!) pattern downloads a month (including a full size copy shop file).  
In addition - these supporters on Patreon will get exclusive content on my adventures in trying to navigate construction of these garments - and I'm hoping that supporters will sew along with me and add their own notes to the body of information.  
The big question is "Why don't I just wait for the finished pattern release?"  
My first answer is - it's a great deal.  You save a minimum of 4.00 over the release price - and if I pop out some extra patterns during the month - the saving is more. 
More importantly - it could take quite a bit before there is any semblance of useful sewing instructions.  A simple commercial pattern (McCall or Butterick) with good instructions and 8 - 10 pieces takes about 30 hours from opening the envelope to a completed release package.
I expect the lag time between Patreon posting and a completed pattern package release could be anywhere from a month to six months - possibly longer.
Which means if you are on Patreon - these will be in your hands before anyone else gets a glimpse. 
Third - Patreon members get to choose what order the patterns from a given magazine are done in - as well as choosing the era that the magazines are from.
Fourth - your contribution to the project supports the mission of getting these out into the public.  If the response is big enough, it might allow for hiring of a part-time assistant to speed up production time.  A win-win for everyone! 
The first issue I'm tackling is Deutsche Modern-Zeitung from 1939.  If you'd like to see images of the patterns from the magazine - pop over to this page in the on-line pattern archive wiki.  
My plan is to work through every pattern in the magazine (not including children). I randomly picked the first one that is in process right now - and a poll will be going up on Patreon to pick the next pattern soon.  
Thanks for reading through all this!  I hope it will inspire you to pop over to Patreon and join up.  
Oh . . . in case you were wondering - there are 26 adult patterns in this issue!